A crockery unit is an indispensable furniture piece, for creating a well-organised kitchen or dining space. Modern crockery cabinets not only help in providing a storage solution to safely hold your tableware and dishes but also elevate the aesthetic appeal of your home. Nowadays, crockery units are made from a variety of materials like plywood, glass, metal, etc. and are available in numerous colours and finishes.
Take a look at these modern crockery unit design ideas, to display your expensive collection of crockery sets. Pick the one that complements your home's overall décor theme.
Source: Pinterest
Unconventional crockery units to elevate your dining space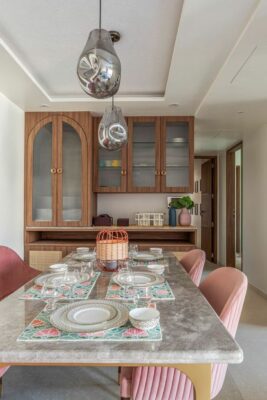 Source: InteriorLover.in (Pinterest)
A glass crockery cabinet that has open space and closed cabinets look good in a dining room. These units offer excellent storage while adding to the overall look of the room.
Kitchen crockery cabinet
No matter what your style, there is a crockery unit design out there that is perfect for you. Check out our list of new designs to find the one that fits your home perfectly. From classic and traditional to modern and contemporary, we have got you covered.
Innovative crockery unit design for a chic kitchen upgrade
Source: domino magazine (Pinterest)
This innovative customised kitchen cabinet has created storage space for all kitchen essential ingredients. This cabinet is a good add on to a small kitchen.  While the upper portion can be used for daily kitchen use, the lower deep cabinets can be used for storing crockery and cutlery.
Source: Pinterest
This kitchen cabinet alongside the kitchen platform is apt for a long kitchen as the glass will add to vastness of the space.
Stand out with these one-of-a-kind crockery storage ideas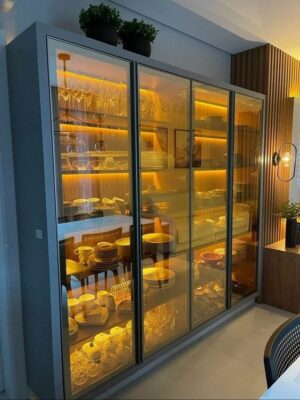 Source: Pinterest
This one-of a kind crockery cabinet shows that simplicity can help a product stand out. This simple cabinet when has cutlery neatly placed inside, gives the whole space a makeover.  You can custom make it as per the room size, but we suggest that this will be a beauty on a long wall.
Wall mounted crockery unit design
There are so many crockery unit designs to choose from these days that it can be hard to know where to start. But if you are looking for a way to add a touch of beauty and elegance to your home, then you cannot go wrong with a kitchen crockery cabinet or wall-mounted crockery unit. These designs are extremely popular right now, and for a good reason. They offer a sleek and stylish way to store your dishes, while also freeing up valuable counter space. And because they are mounted on the wall, they are also easy to clean.
Source: Pinterest
Wall-mounted cabinets are perfect for compact houses as they do not occupy any floor space. These cabinets are available in a huge variety of designs and sizes. A wall mounted crockery unit design can be customised to match the décor theme of your kitchen while creating enough space for all the crockery. These crockery units are also suitable for living or dining rooms. A stylish dining room crockery unit design on the wall will also give a classic look to the area.
Multi-functional cabinet for crockery display
A crockery unit is a must-have for every home. These latest designs incorporate functionality and style, making them the perfect addition to any home. 
Source: Pinterest
For a small kitchen, home owners may find it difficult to create additional space for a crockery unit. Adding a multi-functional crockery cabinet design is among the numerous ways to organise a small kitchen. It not only saves space but also fulfills various purposes. The cabinet can be utilised as a buffet-cum-cabinet unit. This crockery unit design for dining area and kitchen space will be a perfect addition for enhancing the room's décor.
See also about: Kitchen steel rack designs
see also about: Tall unit kitchen cabinet ideas
Glass crockery unit design
A glass crockery unit is a great way to add style and sophistication to your home. They come in a variety of colours and styles, so you can find one that fits your unique taste. Plus, they are easy to clean and maintain, so you can keep your home looking its best. 
Source: Pinterest
Incorporate glass in your modern crockery unit design ideas to bring a touch of sophistication to the interiors. Crockery cabinet designs with glass fronts have been popular for decades. Install kitchen cabinets with glass doors that make for a beautiful crockery display. Modern crockery cabinets are sleek and sophisticated and make a style statement when placed in the dining room or kitchen.
The units can be frameless or designed with mosaic. It can also include sliding doors. You can add luxury lighting fixtures, to illuminate the cabinets. The wooden tone in this unique crockery unit glass door design adds a rustic look to the room.
Crockery unit with engineered wood
These latest crockery unit designs are made of engineered wood, a beautiful and strong material. The units are designed to be both stylish and functional, and they come in a variety of colours and styles to suit your taste. You can find these units at any home improvement store, and they are easy to install. With a little effort, you can transform your kitchen or dining room into a beautiful space.
Source: Pinterest
A typical wooden crockery cabinet with a glass door can be a vintage addition to your living or dining room. However, modern crockery cabinets are designed with engineered wood like plywood, particleboard or MDF that look perfect for contemporary homes.
You can choose from a plethora of wooden crockery cabinets with the most alluring designs and plush finishes. Pick a customised crockery unit design for dining area or kitchen with several compartments, racks and drawers, to provide ample space for displaying your kitchenware.
Crockery cabinet with bar counter
A bar counter unit is a great way to add style and functionality to your home. They come in a variety of styles and designs, so you can find one that fits your needs and taste. Plus, they are perfect for entertaining guests.
Having a crockery unit with a bar can help create a focal point in the house. Customise the design as per your choice and enhance the décor of the space, by including contemporary lighting fixtures for that perfect ambience. It is one of the unique crockery unit designs that will give a modern feel to your house interiors.
See also: Popular trends in kitchen cabinets
Modular crockery shelf
Source: Pinterest
Modular storage units can be a practical solution to organise a kitchen space. They are customisable and allow ample storage space for different types of crockery. Select a design that blends with the room interiors. The design can include a combination of open and closed doors. Plus, they are easy to clean and maintain. So if you are looking for a way to add a touch of class to your home, consider investing in a crockery unit.
See also: Everything you need to know about modular kitchen installation
Open-shelved crockery unit
If minimalism is what you want for your kitchen or dining room, opt for an open-shelved unit. You can pick a simple design like a wooden back panel with planks providing space for storage. Bring a modern twist to the traditional open shelves design by choosing plants with reducing the length. Match the décor by adding a classic wooden dining table and chairs. If you have a lot of crockery that you need to store, then an open-shelved unit with a wooden back panel and planks providing space for storage is perfect for you.
Source: Pinterest
Corner crockery almirah
Corner storage cabinets are excellent furniture units that can elevate the décor quotient of any room. Transform an unused corner of your kitchen or dining room by adding a free-standing corner storage unit. Pick a contemporary design with subtle lighting, which works best for modern apartments.
You can also pick a floating unit to protect the crockery sets from toppling over, especially if you have pets and kids at home. Floating crockery cabinet designs that come in dark hues like black or greys also enhance the décor of the room.
Crockery cupboard in dining area
Built-in crockery cabinet
Choose built-in cabinets for your dining room or kitchen space. These cabinet designs can be made with glass or wooden shutters, depending on your personal style.
The enclosed crockery unit matches well with the overall décor of the room, comprising of a traditional wooden dining table and ambient lighting to add a sense of sophistication to the space.
Wooden sideboards for crockery
Wooden sideboards are an excellent addition to any home.  Sideboards are typically dining room crockery unit designs that provide storage space to display your luxury crockery sets. Choose a sideboard unit designed with solid wood that can lend a classic look to the dining room. The open space at the top of the cabinet provides additional space for displaying décor items.
Source: Pinterest
Contemporary crockery design
A modern crockery cabinet in dining room will be a focal point for contemporary house interiors. These units come with a single frame to accommodate all the glassware and crockery, with some additional drawers and open shelves. The sleek finish to this modern crockery unit will give a unique appeal to the home décor. The frame is made of stainless steel.
Source: Pinterest
(Source: Pinterest)
Crockery units as room partition
For open floor plans or studio apartments, crockery cabinets can work as a divider wall, to separate the living room and the dining space. Pick a wall-to-ceiling cabinet with veneer panelling that would enhance the aesthetic appeal of your apartment.
See also: Important kitchen Vastu Shastra tips
8 trending crockery units you must check out
Full-wall units for crockery
Maintain your dining area in order with a complete wall cabinet. Use the lower section to store your equipment, such as a refrigerator, and make it look built-in. The crockery should be kept on the upper half of the shelf. It will have compartments for each dish, which can easily be reached by those sitting at the table.  The smaller items can be stored in front of them, making them easier to access when you need them. Another option is a TV unit that has shelves for all your entertainment devices like DVD players and video game consoles. 
Source: Pinterest
Curio cabinets unit design 
As crockery cabinets go, the curio cabinet is the oldest and most popular design because of its shape. Every local interior designer prefers this design. After you place this eye-catching furniture in your sumptuous eating area, it will feel fashionable. The colours are neutral but striking at the same time. Curio cabinets also have storage spaces to store precious collectables.
Source: Pinterest
Antique metal units
Fashion trends are set by this generation's use of antique objects in interior design. This metal antique crockery cabinet can add style to your living room and dining area. Adding some fashionable stickers would also be a good idea.
Source: Pinterest
China cabinets
The popularity of china cabinets has declined over the past several decades, but that does not mean they are not useful or irrelevant. Thanks to the grand millennial style, china cabinets and hutches are in vogue right now. There is nothing more exquisite than a china cabinet. The cabinet glass blinds are stunning. You can thus keep an eye on your chinaware with these excellent glass shutters.
Source: Pinterest
Corner storage units
Any room can benefit from corner storage cabinets. Make use of an empty corner of your living room to store a free-standing corner storage container. To create a modern living space, choose a style with soft lighting.
Source: Pinterest
Kitchen island units
Utilise every square inch of your dining area if it is connected to the kitchen. If your kitchen already has an island, utilise it. Your dinnerware should be placed inside the cupboard after you close the door. Having everything in one location makes it easier to manage your belongings.
Source: Pinterest
Basic shelving units
Invest in sturdy shelving units for your kitchen and pantry to maximise storage space. It is possible to use kitchen shelves to hold pots, pans, books, food items, and kitchen equipment. If you live in a dusty environment or have limited space in your home, a sealed unit is an adequate layout for storing kitchenware.
Source: Pinterest
Concealed wooden crockery unit
Cleanliness and orderliness are the benefits of this option. Your crockery articles should be stored in wooden cabinets in the living area. If you shut its door, no one will know if it is a dinnerware cabinet or a storage unit.
Source: Pinterest
Tips on creating dream kitchens
The kitchen is the heart of any home. It is where families gather to cook, eat and spend time together. If you are thinking of renovating your kitchen or even starting from scratch, then check out these latest crockery unit designs for some inspiration.
Start by planning what you need. Write down the must-haves or create a mood board to get an idea of what you want your dream kitchen to look like.

Once you know what you need, start thinking about design. Do you want a modern kitchen with sleek lines and a minimalistic look? Or are you looking for something more traditional? Consider your style and the overall style of your home when making your decision.
FAQs
What is the use of a crockery unit?
A crockery unit is a storage cabinet that is used to keep cutlery, glassware, etc.
What is the standard size of a crockery unit?
Crockery cabinets are available in different sizes. The size of a standard, free-standing crockery unit can range from five to 6.5 ft in height, two to four ft in length, and one to 1.25 ft in width.
What is the proper way to display crockery?
A shelf or cabinet can be used to display crockery.
What is the purpose of a crockery cabinet?
A spacious crockery cabinet will be able to accommodate all of your crockeries.
How large should a crockery unit be?
The size standard free-standing crockery unit can range in size from five to 6.5 feet in height, two to four feet in length, and one to 1.25 feet in width.
Got any questions or point of view on our article? We would love to hear from you.
Write to our Editor-in-Chief Jhumur Ghosh at 
jhumur.ghosh1@housing.com