Bollywood actor Ajay Singh Deol, popularly known by the screen name 'Sunny Deol', is the eldest son of film star Dharmendra and Prakash Kaur and brother of actor Bobby Deol.  He lives with his wife and sons in Punjab and Mumbai.
After a long break, he was seen on the silver screen with his movie Gadar-2 , a sequel to his hit movie Gadar- Ek Prem Katha that released in August 2023. Gadar-2 crossed more than Rs 400 crore within  less than two weeks of its release.
Bank of Baroda issues corrigendum for Sunny Deol house auction
On August 21, 2o23, the Bank of Baroda issued a corrigendum citing technical issue for withdrawing the auction notice that it had issued for Sunny Villa on August 19, 2023.
The Gadar-2 actor has to repay around Rs 56 crore to BoB and this amount is due since December 2022.  The property was to be auctioned on September 25, 2023 with a base reserve price of Rs 51.43 crore.
Sunny Deol's son's marriage
On June 18, 2023, Sunny Deol's son Karan Deol tied the knot with Drisha Acharya.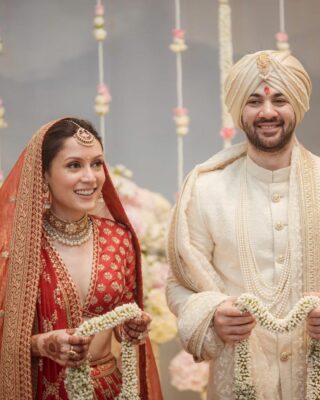 The Pre-wedding functions of Karan Deol, Sunny Deol's son with Drisha Acharya  started on June 14, 2023. The wedding functions took place between June 16-18. Reports suggest that the wedding venue is Taj Lands End, Bandra.
Sunny Deol house address is in the Malabar Hill area of Mumbai. The gate of the house opens with the word 'command'.
Also read all about Kumar Mangalam Birla's Jatia House in Malabar Hill
Sunny Deol house : Key features
One of the outstanding features of this swanky residence, is the coloured glass that adorns several places of this place. The rays of the sun falling on them create rainbow-like colours.
There is a breathtakingly beautiful pool outside the house, which looks like a huge blob of frozen water dabbed in blue.
There are many such surprises and high-tech wonders that you will see in this luxurious house. All the controls in Sunny Deol bungalow are automated.
The location of the house on the hills, only adds to its magic.
Palm trees line the bungalow's driveway and the expansive balcony of this ritzy residence offers a splendid view of nature, with green and blue shades as far as the eyes can see.
See also: All about late Dilip Kumar and Saira Banu's bungalow in Pali Hill, Mumbai
Sunny Deol house Mumbai is a palatial property that is big enough to house a family of 50.
Sunny Deol is a fitness freak and it is no wonder then that the house has a plush gym, with all modern equipment to exercise one's muscles and tone up the mind and spirit.
Apart from the gym, the house has a movie theatre and a spa, a dining table for 25 persons, a library, a swimming pool and a helipad.
Sunny Deol movies
Sunny Deol began his film career with the super hit film 'Betaab' in 1983, in which he starred opposite another debutante, Amrita Singh. The film went on to be a blockbuster and after the movie, there was no looking back for Sunny. Some of the iconic Sunny Deol films are Arjun, Tridev, Ghayal, Damini, Ghatak, Border and Yamla Pagla Deewana. One of his remarkable and award-winning flicks was Gadar. The film portrayed his acting prowess and he was showered with praise from the top personalities in show business. Sunny has followed in the footsteps of his father Dharmendra, in the film industry. In terms of personality too, Sunny, reflects some of the aura of his father. Deol remains reserved, soft-spoken and unassuming and is known for the love and respect that he has for his parents.
See also: A look at Aamir Khan's luxurious properties
Sunny Deol's net worth and land portfolio
Sunny Deol has always maintained a low profile and it is hard to find properties owned by him. The Pathankot Gurdaspur MP, who recently wrote to finance minister Nirmala Sitharaman, requesting her to lift moratorium-linked restrictions on Hindu Cooperative Bank Limited, declared roughly Rs 87 crore worth of assets and Rs 53 crore in liabilities on filing his nomination.
Sunny Deol's lavish bungalow in Mumbai is officially owned by his father Dharmendra. However, he reportedly owns luxurious bungalows in Punjab and the United Kingdom (UK).The latter property was once used for movie shootings, as well, as per reports. According to India Today, Sunny Deol owns a holiday home in Manali. Sunny Deol also owns the the Sunny Villa located in Juhu Gandhigram that is spread over 599 sqm. He has declared agricultural land worth more than Rs 10 crore, mostly in the Khandala Maval district. Interestingly, his father Dharmendra's sprawling farmhouse looks to be part of this massive portfolio of agricultural land. Dharmendra spent most of the lockdown in this Lonavala farmhouse. Sunny Deol also owns non-agricultural land worth more than Rs 8 crore in the same zone.
FAQs
Where is Sunny Deol's home?
Sunny Doel's home is in the Malabar Hill region of Mumbai.
What is the outstanding feature of Sunny Doel's house?
Among the many outstanding features of Sunny Deol house are its coloured glasses throughout the place, which create a rainbow of natural light colours through the house.
Is Sunny Deol vegetarian?
Yes, Sunny Deol is believed to prefer a vegetarian diet although he eats non-veg food once in a while. He is a teetotaller and does not smoke.
(Images courtesy Sunny Deol's Instagram account)
Got any questions or point of view on our article? We would love to hear from you.
Write to our Editor-in-Chief Jhumur Ghosh at 
jhumur.ghosh1@housing.com