When it comes to giving your spacious interior layouts definition, open kitchen partitions are essential. These can be used to add some privacy to your kitchen and separate it from the dining and living areas. A good kitchen partition layout can also help in lessening the maintenance burden.
Here are a few open kitchen partition ideas to help you balance functionality and aesthetics in your open kitchen design, ranging from traditional breakfast counter ideas to more modern collapsible partitions.
See also: Wood partition design ideas for your home
Best open kitchen partition ideas
Open kitchen partition idea #1: Jaali partition
Source: Pinterest
Having guests sit on the couch in the living room while you are preparing a meal can be a little awkward. In that situation, how should a kitchen be covered? A jaali divider is one creative solution to this issue. Make sure the room divider you choose blends in with the other design components in the space.
Open kitchen partition idea #2: Window partition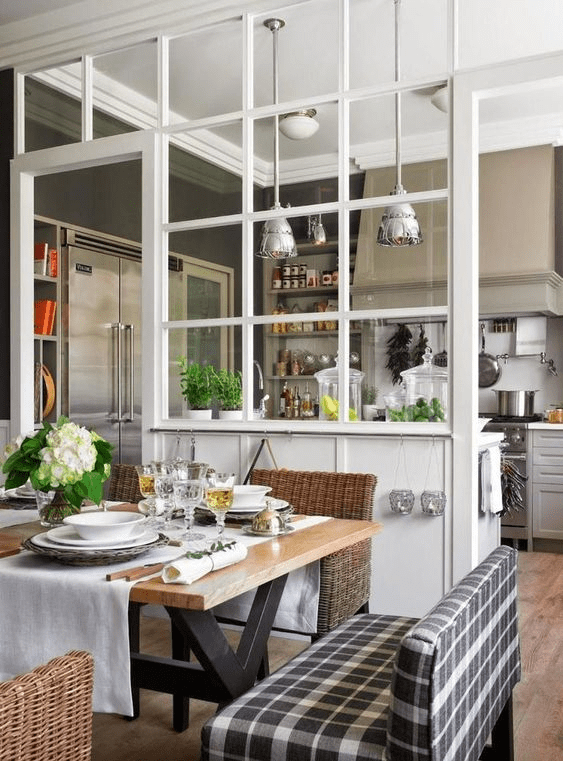 Source: Pinterest
Window partition designs that are transparent allow light to flow freely between the dining area and the kitchen. Support the frames on a snack counter to make the most of this contemporary kitchen partition design and gain more storage space. Use bar stools that coordinate with the wall-mounted partition separating the dining area from the kitchen. You can install statement illumination above the counter to finish the look.
Open kitchen partition idea #3: Glass partition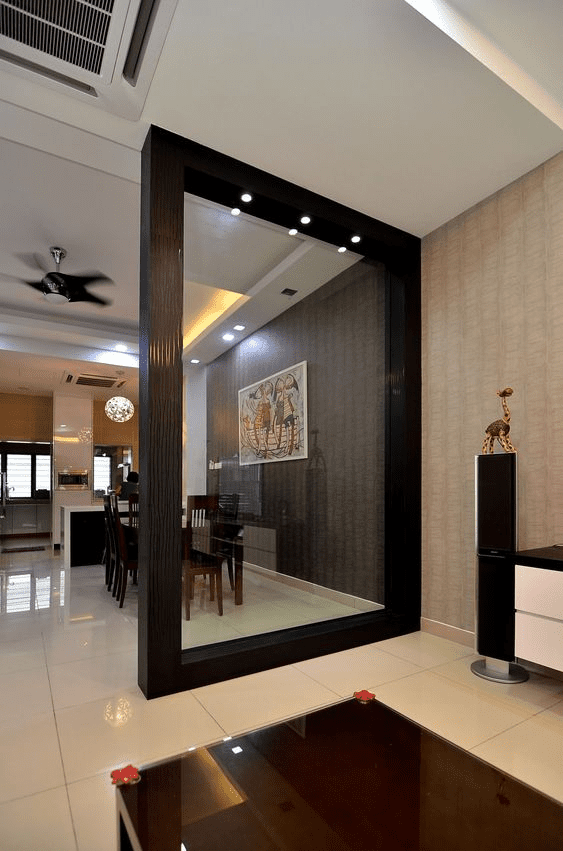 Source: Pinterest
A full-length glass partition is a good choice if you prefer the kitchen to be discreetly hidden from the dining area or the living room. This kitchen partition wall provides the desired level of semi-privacy by filtering light while maintaining a view of the kitchen. Utilise the geometric shapes on the adjacent feature wall in your modern kitchen to unify the look.
Open kitchen partition idea #4: Collapsible divider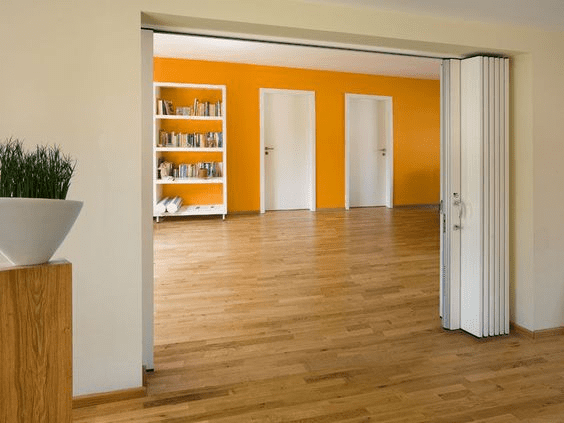 Source: Pinterest
For kitchens with limited space, collapsible partitions are indispensable. A sliding door divides the kitchen from the remaining portion of the living room. The combination of a pull-out table allows you to chop, dice, trim, and eat your food and provides much functionality in a small amount of space.
Lighter tones, like white, fit the colour scheme well in a narrow area. To distinguish the zones, contrast this tiny kitchen partition with a defiant pop of colour.
Open kitchen partition idea #5: Contemporary TV panel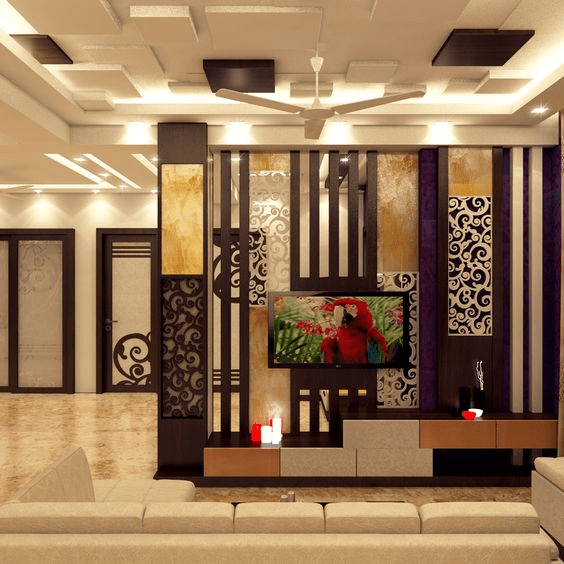 Source: Pinterest
Building a multi-purpose separation unit like this will end up serving you best if your apartment has a completely open-concept layout. When it comes to Indian home interiors, this open kitchen partition concept is distinctively modern and relatively uncommon. You can alter the design to provide more storage capacity to meet your specific needs because it is fully customisable.
Open kitchen partition idea #6: Garden partition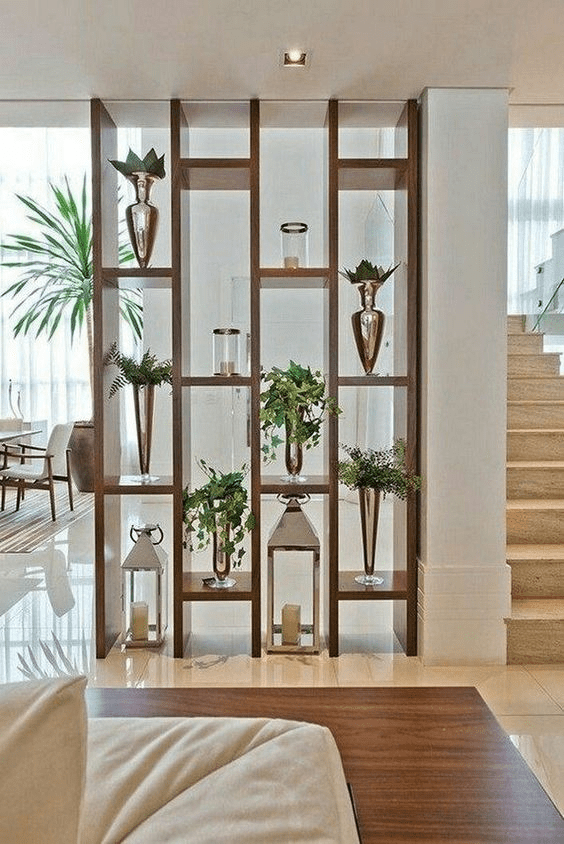 Source: Pinterest
This partition concept will appeal to you the most if you enjoy keeping plants in your home. You cannot go wrong with this dining and kitchen partition because most colour schemes used in home decor benefit from pretty details. It is a very light-maintenance and durable design.
Open kitchen partition idea #7: Wooden partition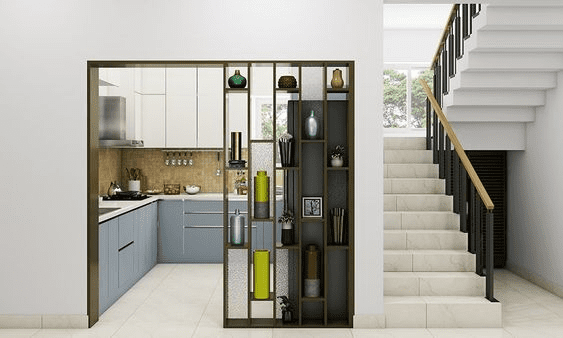 Source: Pinterest
As it subtly provides partial personal space in open-concept layouts, this playful design is rising in popularity. Kitchen wooden partitions are the most aesthetically pleasing and practical option because of how easily their designs can be customised. They can be constructed from cost-effective MDF or robust plywood. In either case, there is a wide range in their design, colour, and finish.
Open-kitchen partition idea #8: Breakfast counter partition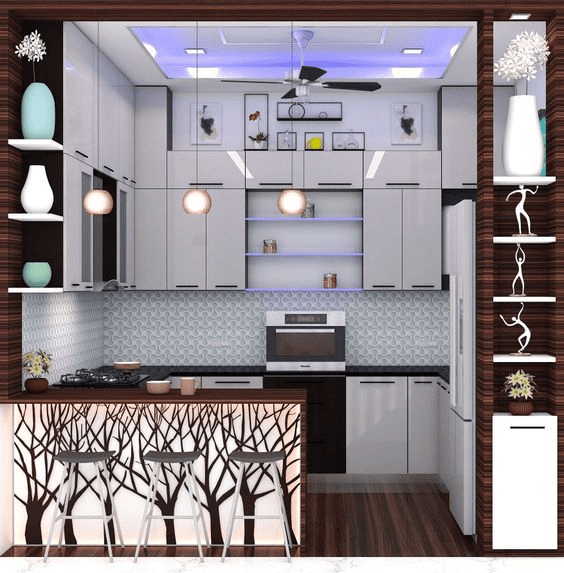 Source: Pinterest
This tried-and-true partition concept is straightforward to use but has a lot to offer. An open kitchen can be neatly separated from the hallway by the breakfast bar. Smaller homes can benefit the most from it because it keeps the area clean and uncluttered while creating space for more storage. Make sure the counter blends in with the adjacent walls' colour scheme.
Open-kitchen partition idea #9
Source: Unspalsh
Open-kitchen partition idea #10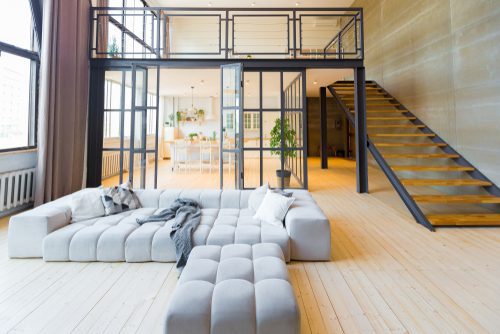 Open-kitchen partition idea #11
Open-kitchen partition idea #12
Open-kitchen partition idea #13
FAQs
How do you separate a living room from an open kitchen?
There are many ways to divide a kitchen from a living room, including a table, a bookcase, or a kitchen island. You can, of course, choose a more durable kitchen dividing wall and utilise an entire wall to firmly divide the kitchen from the living space if you prefer a complete separation.
As per Vastu, can we have an open kitchen?
Open kitchen designs should be avoided as much as possible in the north zone. Additionally favoured for open kitchen designs is a west zone layout. It encourages wellness. According to the Vastu principle, the kitchen must have a window or a door on the East side.