Summer vacations for kids are synonymous to fun activities. If you have kids at home and wish to keep them engaged, choose interesting DIY art and craft ideas. According to studies, art and crafts help boost cognitive skills in children and ignites their creativity and imagination. These are easy recycled crafts ideas to keep your kids busy and entertained at home.
See also: Best out of waste ideas for home decoration
Paper flowers
Create colourful paper flowers, which look attractive and are easy alternatives to real flowers for decoration. Only a few materials are required, which include colourful papers, scissors, and glue. You can use your creativity to make a variety of flowers, such as peonies, roses, etc.
DIY bird feeder
Take a discarded plastic bottle and give it an eco-friendly makeover. Clean the bottle and cut out a portion of the bottle. Attach a hook, fill the bottle with desired grains and place it in your yard, or balcony. You can also add perches for birds.
Tin can planters
Give a new life to old tin cans at home. Ask your child to decorate or paint the cans with unique designs. Teach them how to grow and care for succulents and other plants at home.
Source: Pinterest
Egg carton flowers
Egg cartons can be used to make DIY flowers at home. Let your child explore ways to create petals of various shapes and sizes for flowers. Coat them in different paints for a colourful effect.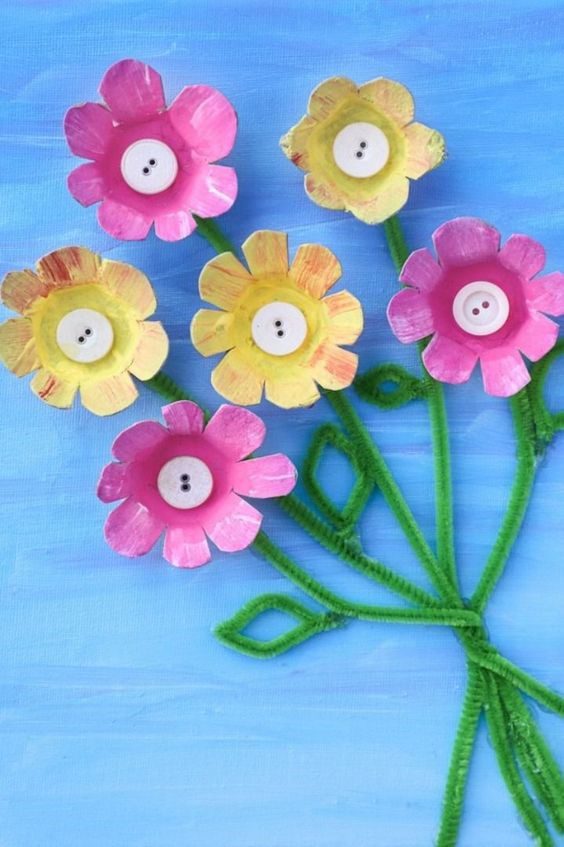 Source: Pinterest
DIY wind chimes
Empty tin cans can be recycled into beautiful wind chimes for your patio. Pick different sizes of tin cans that can bring out a variety of sounds. You will also need strings and colourful beads for this easy wind chime craft idea.
Source: Pinterest
Pom-pom bouquet
An interesting craft idea for children is making poms-poms using wool yarn. Now, use them creatively to make a flower bouquet. It's a perfect way to decorate the house for a birthday.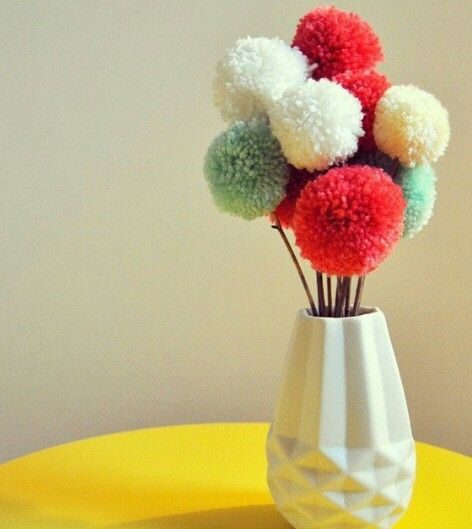 Source: Pinterest
DIY bowling game
There is no crafting necessary for this outdoor activity. However, you may need some plastic bottles filled with water and watermelon that will serve as a bowling ball to knock down the pins. You can ask your child to design bowling pins for an eye-catching look.
Source: Pinterest
DIY apron
This is one of the fun and easy craft ideas for all ages. Use fabric paint and a small paintbrush to paint a plain canvas apron. Ask your children to dip their fingers in colourful paint and press onto the apron.
Source: Pinterest
Fabric covered paperweight
A hand-crafted paperweight is a unique idea to decorate study desks for your children. You will need to cut a piece of fabric into strips. Cover a rock using this material.
Source: Pinterest
Paper plate dream catchers
Carefully cut out the inner circle of a paper plate. Punch evenly spaced holes around the inside edge of the plate. Hang the features from these holes and decorate the plate in interesting ways. Attach pom poms, buttons, gemstones, etc., to make the dream catcher design more appealing.
Source: Pinterest
Egg carton turtles
Among other easy craft ideas is recycling used egg cartons and transforming them into an attractive band of turtles. Add a pompom for head and limbs. You will also require glue and green and yellow paint to colour the turtle.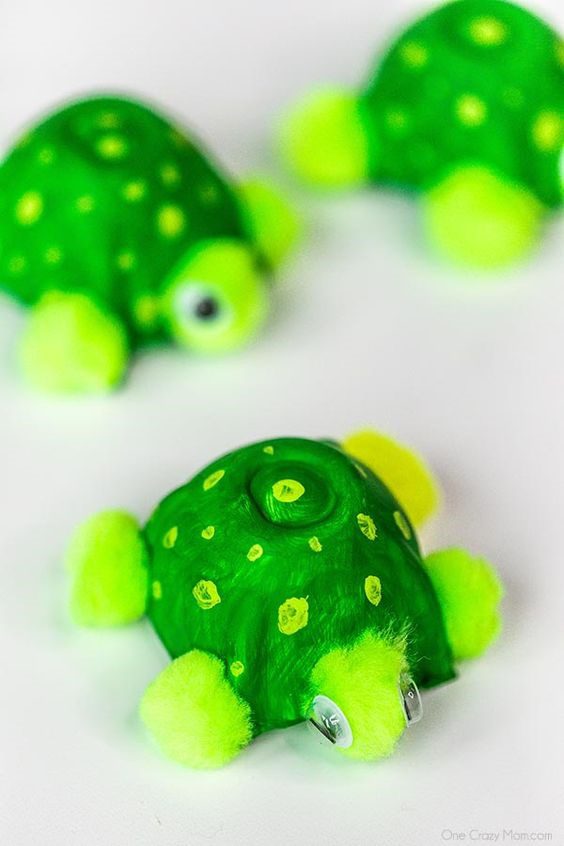 Source: Pinterest (One Crazy Mom)
Paper roll dragon
A fun craft for your children will be to turn used cardboard tubes into dragons, which can also be used as a pen holder. Green coloured paper, ribbon, glue, and googly eyes are the materials required.
Source: Pinterest
Clothespin dragonflies
Collect some clothespins and attach them with a pipe cleaner or string to create a beautiful dragonfly craft. Paint the clothespin in different colours or patterns.
Source: Pinterest (craftymorning.com)
Pop bottle firefly
This easy craft idea can help your children light up their room in a fun way. You will need empty plastic water bottles glue and googly eyes. Glue toothpicks onto the wings and wrap a pipe cleaner around the bottle for the antenna. Now, place glow sticks inside the bottle.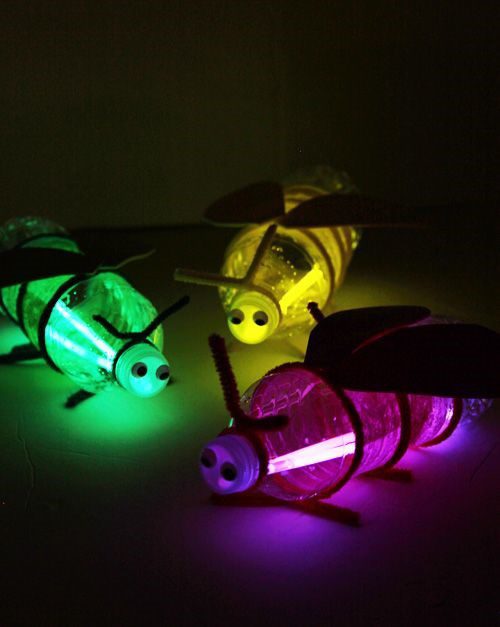 Source: Pinterest (One Little Project)
Yogurt cup animals
Encourage your child to come up with creative ways to turn used yogurt cups into their favourite zoo animals. You will need colour paper, glue sketch pens and wool yarn for this craft.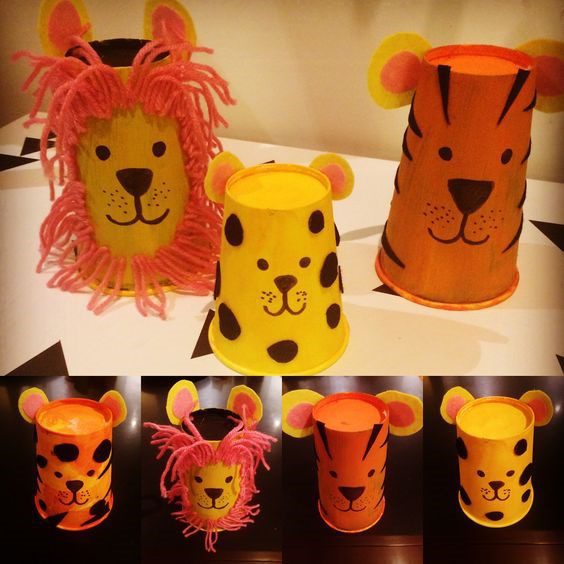 Source: Pinterest (Little Mulberry Project)
Tissue box planter or table décor
Instead of discarding used tissue boxes, ask your child to transform them into DIY planters or table decor. Wrap twine around the box to elevate the look of this DIY table décor item. It would also make the stand sturdy enough to hold succulents.
Source: Pinterest (seevanessacraft.com)
Milk carton birdhouse
Milk cartons and juice boxes need not be thrown away. Help your kids create DIY and eco-friendly birdhouses and feeders. Use beads, paint, or coloured paper for this DIY craft idea.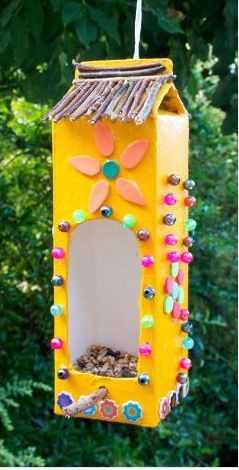 Source: Pinterest
FAQs
What easy crafts can I make at home?
You can create paper flowers, artwork for walls, DIY planters or vase, desk organisers, etc.
What is the best craft for a nine-year-old?
Nine-year-old children can try DIY crafts, such as flower crowns, wall art, pen holders, dreamcatchers, pom-pom keychains, etc.
How to make a craft for children's day?
Use folding paper to create origami or design a handmade greeting card for the occasion. You can also go for paper flower decorations.
What craft project should one take up?
Children can go for easy paper crafts, such as accordion paper flowers or flower boxes.
What are the materials required for papercraft?
Some essential materials required for paper crafts are paper, scissors, trimmer, glue, crafting mat, ink, and pencil.
Got any questions or point of view on our article? We would love to hear from you. Write to our Editor-in-Chief Jhumur Ghosh at
jhumur.ghosh1@housing.com